7 Amazing Work from Home Design Ideas for Maximum Productivity
August 3, 2022
Since the Covid-19 worldwide pandemic office workers have had to learn how to take their workspaces and transfer them to home spaces. Now more and more companies are adopting flexible work opportunities allowing those who enjoyed working from home to stay put.
The number one question we're getting from prospective homebuyers and current homeowners is "how can I best use this space for an office" and "how have you seen other home offices set up."
At Graham Hart, we are dedicated to creating spaces that suit your busy everyday needs. Here are a few creative home office ideas for your new home.
Discover your Interior Design Style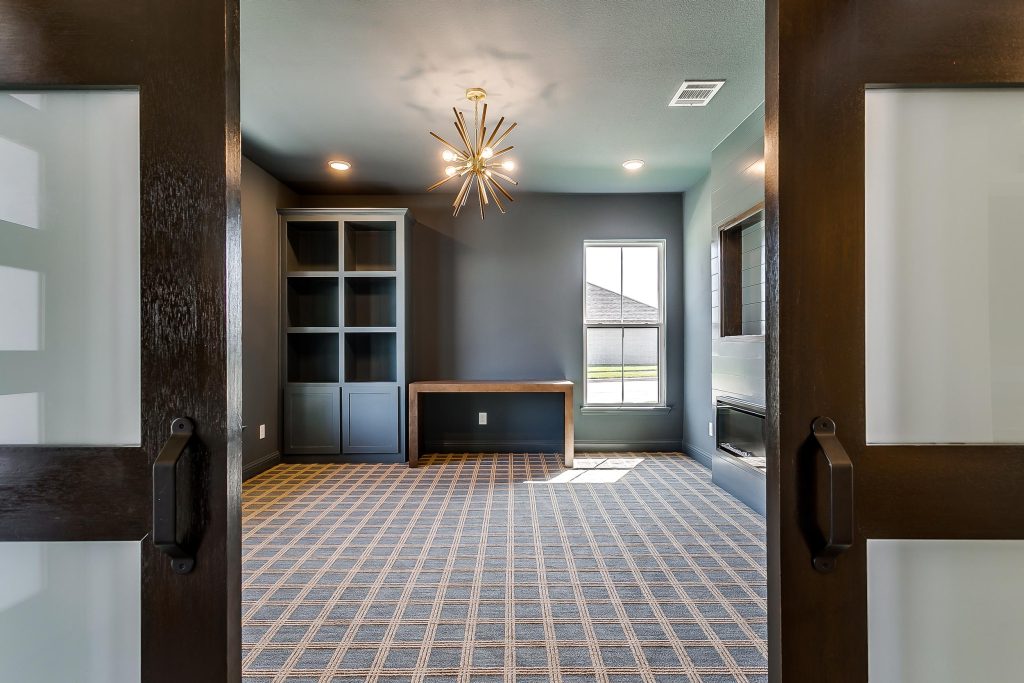 Do you gravitate toward light airy colors? Or do you prefer moody muted tones? When setting up your home office, deciding on a design aesthetic is the first step. Use apps like Pinterest and Instagram to browse office styles to narrow down your personal preferences.
Once you land on an aesthetic, make a to-do list of redesign initiatives and slowly knock things off your list for your ideal office setup.
Set Up Your Desk for Optimal Natural Light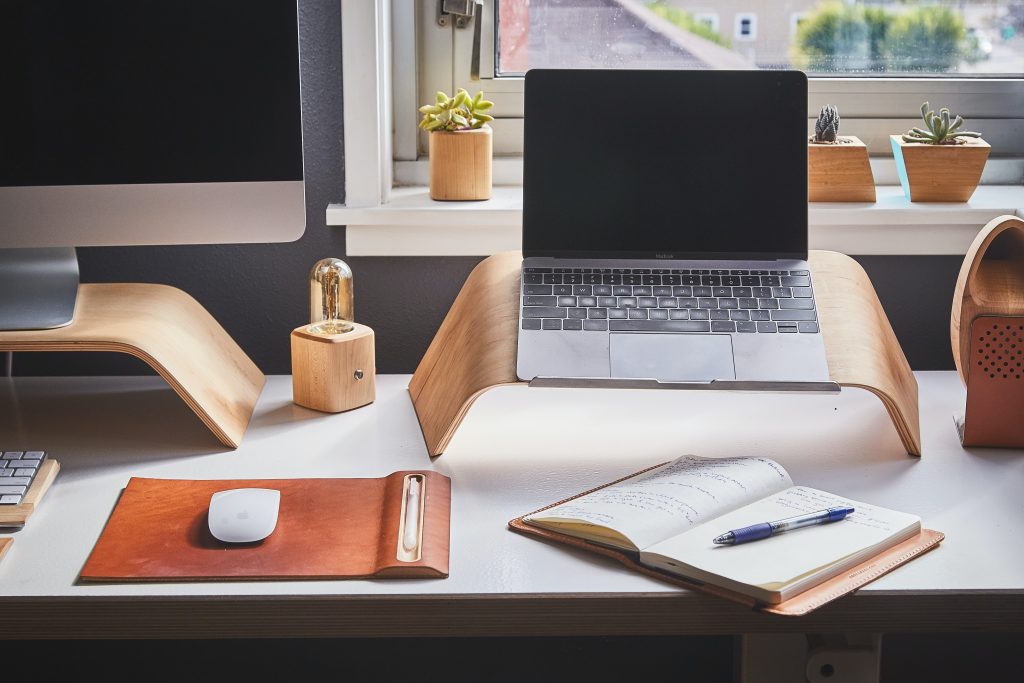 With working from home becoming the new normal, gone are the days of awful overhead fluorescent lighting. At Graham Hart, we pride ourselves on maximizing natural light in our homes. By setting up your desk or workspace to face your natural light source you will find your productivity increase.
Many studies have shown that natural light in the workspace reduces eye strain and headaches people used to experience in the office. Plus, the scenery is a big bonus!
Give Your Workspace some personality with Paint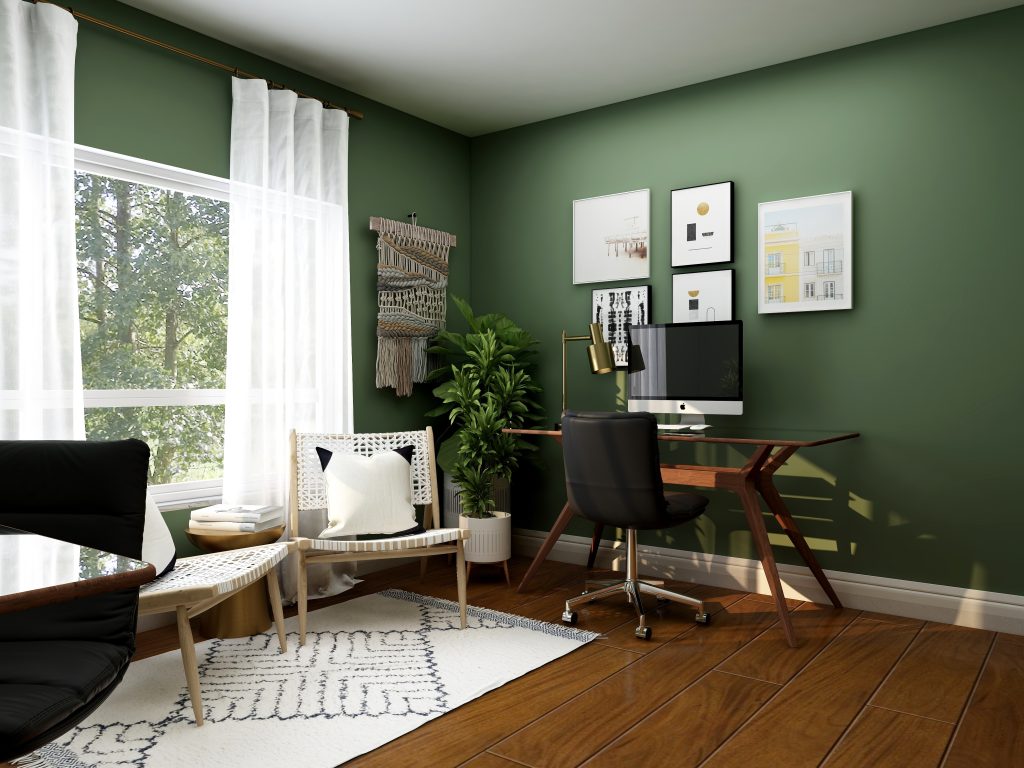 One struggle people have when working from home is knowing when and how to shut off work when at home. One way to do so is to differentiate your workspace from the rest of your home and nothing does that better than a fresh coat of paint. By painting your workspace a muted, calming color you can find yourself focusing better on your work. Also, by having a home office a separate color from the main living area of your home, it will set it apart where you associate the areas where you relax.
Another fun way to make your workspace unique is by using patterns and different color schemes in your office. You can now find wallpaper options that don't require intense installation and promise easy removal.
Cozy Up with an Accent Rug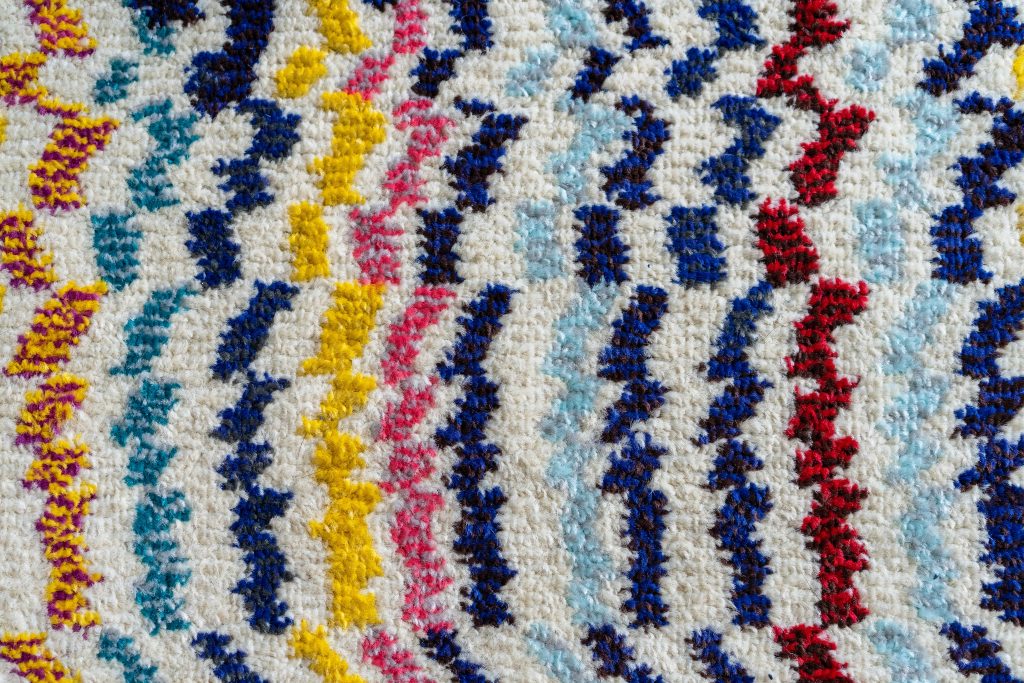 Now that more people are working from home, they can customize their workspace to take on a warmer feel. Area rugs are great additions to make rooms pop with color and patterns. Find your accent rug inspiration on platforms like Pinterest and Instagram.
Rugs with longer threads can feel luxurious underfoot now that you can dress more casually since you are working from home. This might feel like a small feature but can change the way you decompress while working.
Set Up Alternative Work Areas Within Your Home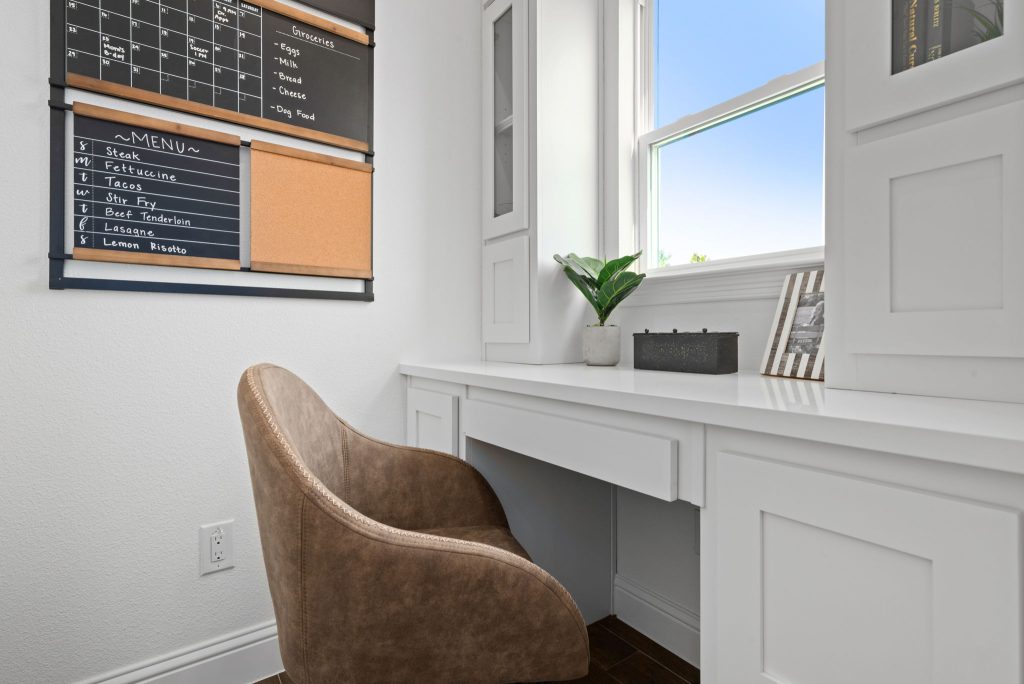 Has your flex space room in your home turned into a playroom or guestroom, but you are finding yourself needing to transform it into a joint workspace? In your Graham Hart home, you will find that you will have ample space to add storage to suit everyone's needs.
If you are converting a former guest room into a live/workspace consider using a day-bed that also has a trundle attachment. Not only will you have seating during the day, but you can also maximize the space to accommodate two twin beds.
For those with kiddos sharing their space and the room you are transforming has closet access, consider adding ground storage that can accommodate baskets to be used for toys and art supplies. Helpful hint, placing your storage at eye level for your littles promotes self-play and can help with a speedier clean-up. Don't forget to maximize wall space! Hanging toys and hooks can inspire young play and helps keep clutter off of the floor.
Create An Open-Air Workspace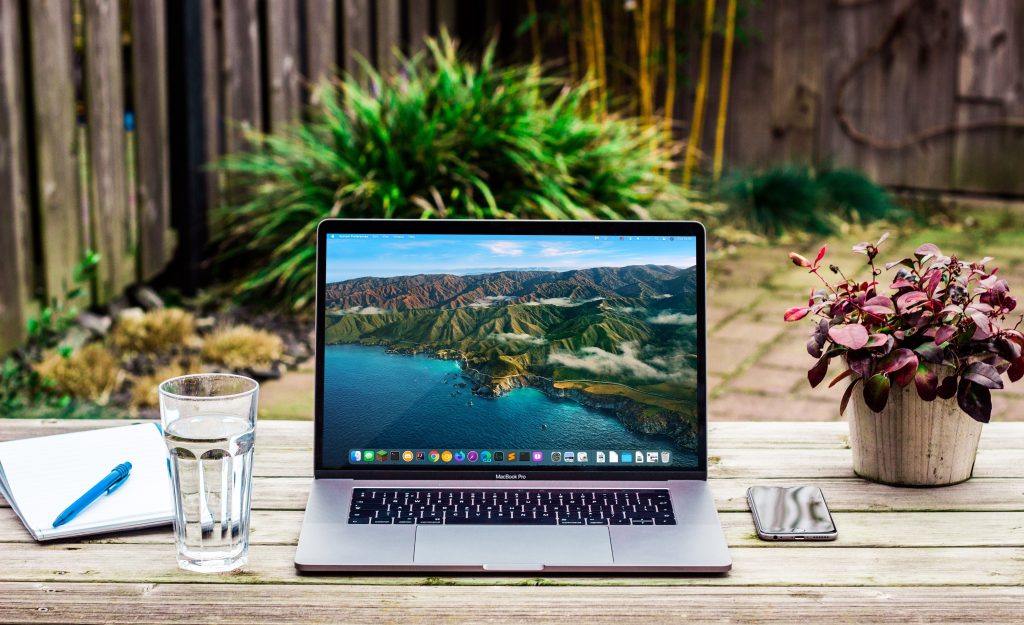 In the new age of working from home, many have enjoyed the opportunity to soak up the sun. If you have limited space indoors, you can repurpose your backyard patio for work-from-home spaces. In Graham Hart homes, we include covered patio space that can accommodate exterior furniture. Studies have shown that working outside can improve mood and give you the boost of energy to rock your workday.
Get Organized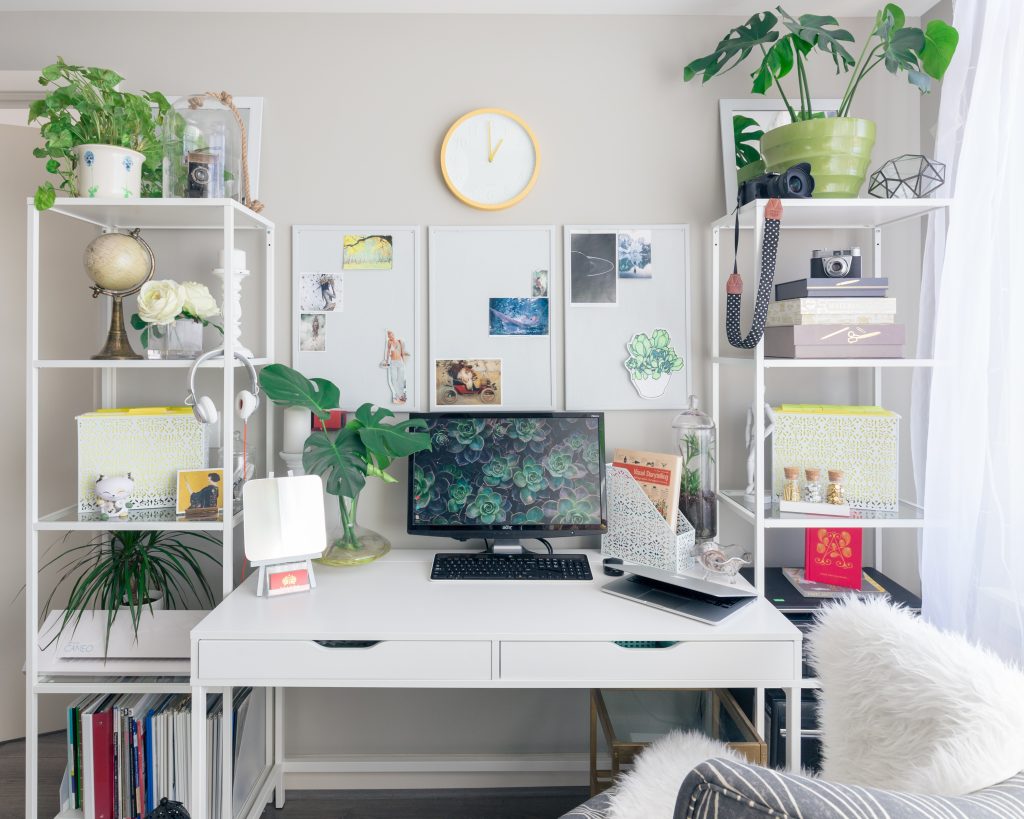 Productivity thrives on organization. By having your ducks in a row and knowing where all of your work essentials are you can focus fully on the task at hand. Items that you can bring into your workspace more efficient are:
Small cabinets
Desk dividers
Bookshelves
Corkboard or White Board
Desk Calendar
These little touches will help streamline your office's functionality giving you one less thing to worry about when you're on deadline.
Ready to get to work? Check out one of Graham Hart's spacious homes to find your perfect work-from-home space.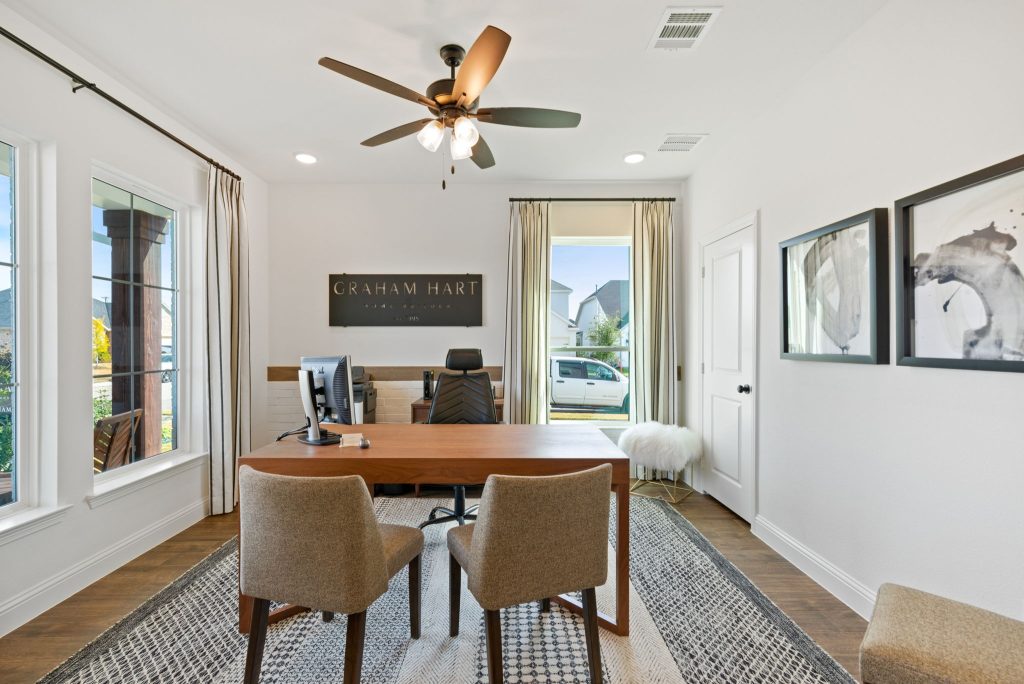 Finding ways to maximize your productivity when working from home can be hard. By having a designated space in your home that is designed in a way that feels focused and organized you can exceed the level of productivity you once had in a traditional office.
At Graham Hart, we understand that many are now needing work-from-home solutions. That is why we create beautiful spaces that you can customize to suit your work-from-home needs. Visit our available homes page to check out your next dream home with ample room for your work needs.