About
Get to Know the Family at Graham Hart
Building Homes of
Distinction
What Makes a Graham Hart Home Unique
We build in distinct communities, offer distinct architectural styles, distinct floor plans and finishing options, and most importantly, distinct customer care. Our commitment to a higher standard results in homes that are exceptionally elegant, yet delightfully functional at every level. Each home is designed & constructed with you in mind. Our focus is on quality—starting from the relationship we build with our clients. Whether you're building a brand new home or moving into a completed showcase model, we are dedicated to delivering a superior, distinct experience.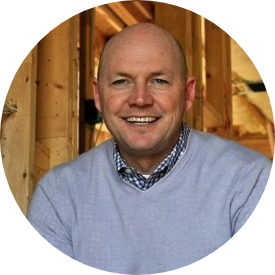 I'm Shawn Goff, founder of Graham Hart Home Builder. You might say building homes is in my blood. My father was a home builder, still the best I've ever known, and I learned the trade at his company. More than teaching me the business, he taught me to challenge conventional wisdom to meet our customers' needs with creativity and style. I took those lessons with me in 1995, when I started Graham Hart Home Builder, a name derived from my two oldest sons.
After 25 years in business and over 1,000 homes built, we continue to offer a personalized alternative to the industry giants who build that many each year. We're large enough to offer competitive pricing and state-of-the-art amenities, yet small enough to deliver a truly customized home that brings your vision to life.
Every board and every brick rests on our time-honored values. We believe that positive relationships ensure our long-term success, which is why we work with the utmost respect for our customers and suppliers, and among ourselves. We focus on achievement, striving to be the best at what we do, through attention to detail and dedication to a job done right. And we are always learning, keeping abreast of trends and techniques that will define the distinctive homes of tomorrow.
Ultimately, our business philosophy is rooted in a simple truth. Your new home is your dream. And at Graham Hart Home Builder, it's our honor to help you make it come true.